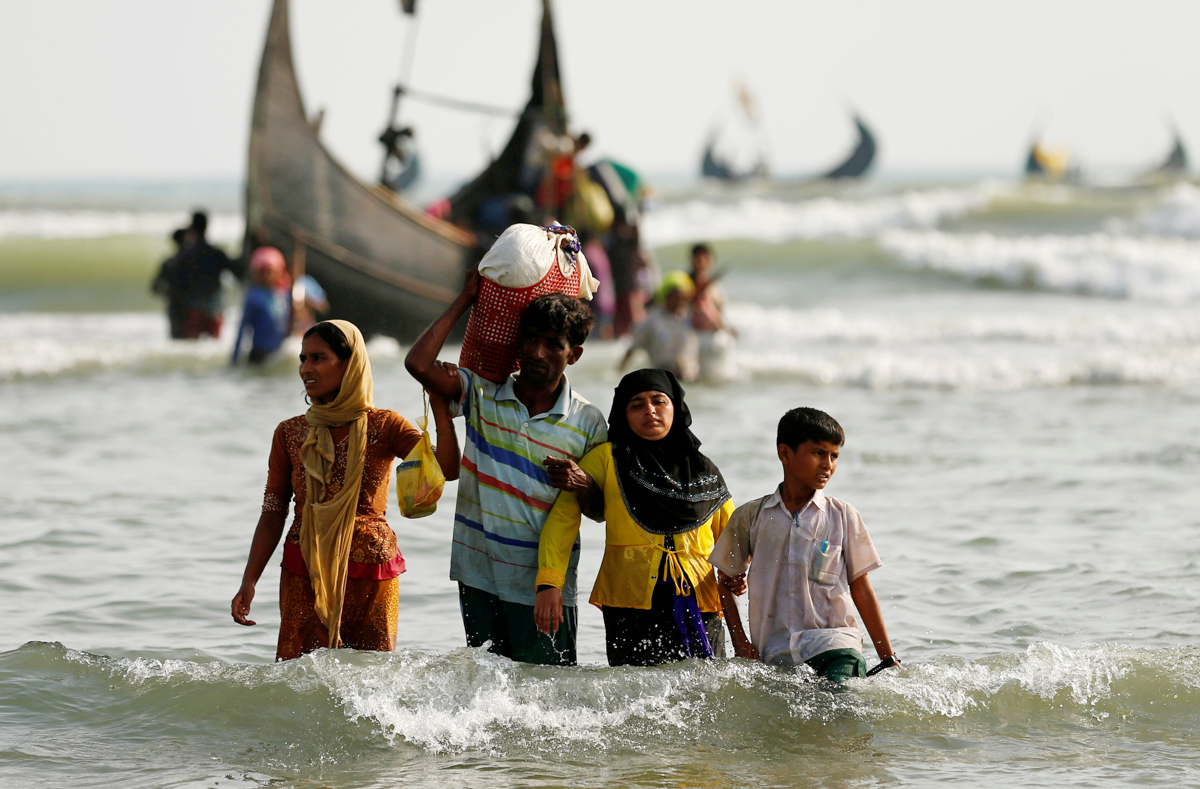 Based on interviews at refugee settlements in Bangladesh's Cox's Bazar region, MSF estimated at least 6,700 Rohingya - including some 730 children below the age of five - were killed by violence between August 25 and September 24.
The U.S. Embassy in Myanmar on Friday sought to up pressure on the country's government over the whereabouts of two Reuters journalists who have been held captive for days, according to reports.
Rakhine State has been a focus of worldwide media attention since August because Burmese army operations there have driven more than 620,000 members of Myanmar's Rohingya minority to flee to neighbouring Bangladesh.
After an internal investigation, the Myanmar army in November exonerated itself of any blame regarding the crisis.
He added that MSF's findings showed more than 59% of children below the age of five who were killed were reportedly shot, 15% burnt to death in their homes, 7% beaten to death and 2% killed in landmine blasts. On 25 August 2017, a "clearance operation" launched by Myanmar's Army in repose to an attack by a Rohingya militant group led to the massive violence in the Rakhine State.
Global aid and rights groups have accused the military of arson, killings and rapes of Rohingya villagers. However, the MSF cautions the figures are "the most conservative" estimates.
SpaceX delays launch attempt to Wednesday
The company along with Orbital ATK took over resupply missions to the ISS for NASA after the end of the space shuttle program. However, more system checks mean that the SpaceX rocket launch must be postponed to Friday at 10:35 a.m.
They have been stripped of their citizenship, denied nearly all rights, and labelled "stateless".
Around 630,000 Rohingya Muslims have fled Myanmar into Bangladesh to escape what the United Nations has called "ethnic cleansing". The government does not use the term Rohingya but calls them Bengali Muslims.
Gunshots were the cause of death in most cases.
The Health Ministry has sent a field hospital to Bangladesh for Rohingya refugees from Myanmar, the General Staff said yesterday.
"It is abhorrent to make these people return to a place they have just recently fled with no guarantee they will be safe and will not be left at the mercy of their persecutors once again", its Bangladesh director Mark Pierce said in a statement. It is not a defensive or pre-emptive move against a radical faction, ARSA, within the Rohingya community, but a decisive move in a decades-long series of attacks and constant persecution, aimed to wipe out an entire ethnic minority population in Myanmar.