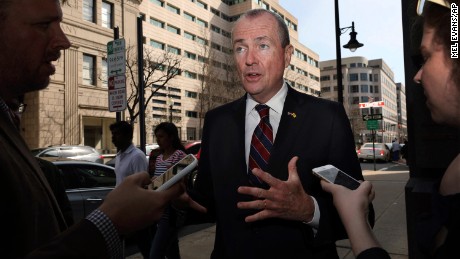 US President Donald Trump's war of words with the Mayor of London continued Monday, with the two men trading barbs even as the city mourns the victims of Saturday's terror attack.
Among the president's barrage of tweets have been two pointed messages directed at Khan.
"At least 7 dead and 48 wounded in terror attack and Mayor of London says there is 'no reason to be alarmed!'"
Trump's controversial tweet came after Khan released a statement telling Londoners there was "no reason to be alarmed" about the increased police presence in the city in the days following the attack. "MSM is working hard to sell it!" he wrote.
Later, the mayor's spokesman said he was too busy to respond to Trump's "ill-informed" tweet.
Mr Khan, a Muslim, has previously criticised the president's plans to temporarily restrict travel to the USA from six mainly Muslim countries.
But instead of walking his comments back or echoing what the top American diplomat in the United Kingdom had to say, Trump on Monday elected to double down on smears and lies. ABC's Jonathan Karl asked at the daily press briefing Monday.
New York City's mayor Bill de Blasio had already made his feelings known on Twitter, writing: "Mayor Sadiq Khan is doing an extraordinary job supporting Londoners in a time of pain".
He told Good Morning America: "Every time he (Mr Trump) puts something out there, he gets criticised by the media all day, every day by everyone else, and then guess what?"
"Your perverse, disgusting ideology has nothing to do with the true values of Islam".
Australia holds rates at record low, signals weak growth
Employment growth has been stronger over recent months, although growth in total hours worked remains weak. Recent evidence suggests the risks to both are finely balanced.
Others on Twitter pointed Trump Jr to Khan's actual response to the attack on Wednesday, in which he said: "Londoners will never be cowed by terrorism".
Khan during a vigil on June 5. "My thoughts are with all the victims of this horrific attack #lovewins".
President Trump, joined by first lady Melania, pauses as he speaks during the Ford's Theatre Annual Gala at the Ford's Theatre on June 4.
Last week Labour leader Jeremy Corbyn described the prime minister's position as "subservience" to the president.
"The United States Conference of Mayors stands today united with Mayor Sadiq Khan of London and the people of London. I found it an affront to someone who is trying to do the right thing for his people".
I think, again, the President's point is something he said...a year and a half ago, when the President talked about how we have to be more committed to national security. "It's shameful that we've reinforced a bully personality". "And I think to suggest something like that is utterly ridiculous".
The White House denied claims Trump was criticising Khan because he was Muslim, calling the suggestion "utterly ridiculous".
Some studies of U.S. environment don't support Trump's claim that it's the "cleanest and most environmentally friendly country on Earth". It's not just about me.
"I don't think we should roll out the red carpet to the President of the U.S. in the circumstances where his policies go against everything we stand for", Khan responded. "You can be a Muslim and you can be European".
Asked by ITV television if he backed the calls for May to resign, he said: "Indeed I would".